The "Keep Trockin' For DJ Jeff" Fund
In November of 2011, during a routine exam, a mass was discovered inside DJ Jeff''s pancreas. After many further tests, it was confirmed in January of 2012 that it was indeed pancreatic cancer.  BeachFront Radio's friends at
Phins To the West
decided to start the "Keep Trockin' For DJ Jeff" fund  to help relieve some of the stress over the mounting bills and co-pays for treatment.  Purple wrist bands with the inscription "Keep Trockin' For DJ Jeff" have been flying out the door of the PTTW headquarters.
Pictures poured into the BeachFront Studios and we created this page to share those photos with you. It truly shows that not only is the Trop Rock World filled with great music, it's also filled with great people!
Please send your photos to:


Info@BeachFrontRadio.com
DJ Jeff lost his battle on October 23, 2013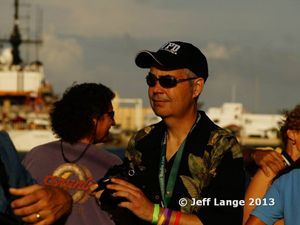 But it was his wish to see the DJ Jeff Fund continue to help others.
*** This fund has been suspended until further notice ***
The executors of the fund are changing the way you can contribute
*** Stay tuned until further notice ***
A HUGE thank you to Phins to the West for sponsoring this amazing fund!
**** NOTE: The Phins to the West
Pay
Pal
donation link is down again. The "here" link above is not functioning.
Also the
Pay
Pal
link below has been removed.
Contact us with requests if you are interested in further plans with the DJ Jeff fund:
info@beachfrontradio.com
Thanks so much for helping!