I hope you tuned in to BeachFront Radio and the interview we aired recently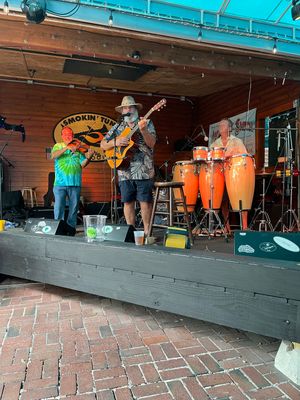 with a brand new Trop Rock artist, Jody Bly, who made his Key West debut at the Smokin' Tuna for the BeachFront Radio Welcome Party MOTM 2021.  He was born and raised in Key West and is a true Conch and has "Salt in his Veins". He told some great stories of being a Shrimp Boat Captain in the Keys and other parts of Florida and how he got hooked up with BeachFront Radio and this crazy world of Trop Rock. His stories had us "Blown Away". (that just also happens to be the name of his first song ever played on a Trop Rock Radio station - BeachFront Radio)
Hey and one other thing. During the interview we made the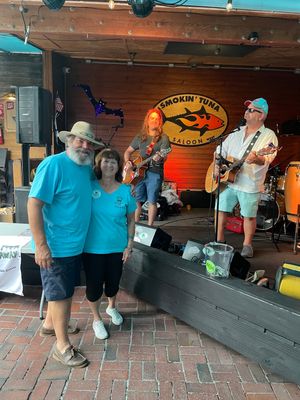 announcement that Jody Bly and his wife, Margaret, will be our West Coast BeachFront Radio Ambassadors.
Welcome to the BeachFront Radio family and also the wonderful world of Trop Rock.
Find his website and contact info below . . .
Website: www.jodybly.com     - click the link to the left
Email: onaloptop@gmail.com
Facebook: Jody Bly Yeomans     - click the link to the left
I hope you caught the interview we broadcasted recently. If not it will soon be posted to Youtube where you will be able to hear it at any time. It was about the fastest growing sport in the World, Pickleball. I had the privilege of participating in a Pickleball Pro Stop for the PPA (Professional Pickleball Association) this past June in San Clemente, Calif and competed against some very good players. And while I was there I was given the opportunity by the Commisioner of the PPA Mr. Connor Pardoe to interview some of the Pro Pickleball Players. It was a real pleasure to talk to some of the best players in the world and get their insights into where the sport of Pickleball is heading and how some of them got started in Pickleball. They were all very gracious in giving of their time for me to interview them. The people I had the honor to interview were Ben Johns the #1 Men's player in the world. Simone Jardim the #1 Women's player in the world. Dekel Bar #5, Anna Leigh Waters #6 and just 14 years-old with Kyle Yates, Rick Barry the Hall of Fame Basketball Player from 1965 through 1980 now kicking it in Pickleball at 77. I also got to speak to Hannah Johns, Ben Johns' older sister, who interviews the players after their matches for the PPA. And one of the Legends of Pickleball and a former #1 Senior Pro PB player Dave Weinbach and still one of the best Senior Pros. And lastly Connor Pardoe the Commisioner of the PPA. Oh Yeah we also play some pickleball songs throughout the interviews from the Pickleball Songs of America CD featured right here on BeachFront Radio. I hope you enjoy listening to the interviews and I hope to one day see you on the Pickleball Court.
When the interview is posted on Youtube we will let you all know on this page and our Newsletter and other social connections.
Check out the PPA tour website for all the PPA Tournaments, Results, etc, and more.
Click HERE or the link below.
To find places to play Pickleball
click HERE or the link below.